Merlin Surgical System
The MERLIN® Surgical System is the finest system for non-contact vitreoretinal procedures. With the pedigree of Volk optics, it delivers unmatched image resolution, superior to any other non-contact system.
It is available in two platforms: a Condensing Lens Assembly (CLA) and Rotational Assembly (RA). The CLA platform includes both automated and manual versions.
Its Lens Positioning Unit positions the lens in alignment with the microscope optical pathway, allowing 360° rotational movement.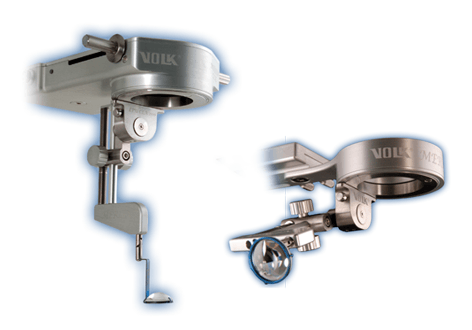 Indirect Non-Contact Surgical Lenses
3 lenses are available, all highly suited for repeat steam sterilization without material degradation, maintaining superior optical quality throughout the long life of the lens.
Wide Angle - allows visualization of the retina out to the ora serrata
Small Diameter - increases space for instrument manipulation. Maintains 94% of the field of view of the wide angle lens
Mid Field - higher magnification views for detailed imaging of the posterior pole.
See Merlin brochure ML-1005 for more information
Reinverting Operating Lens System® (ROLS®)
The ROLS unit is used with all surgical microscopes for viewing the retina with contact lenses, non contact systems and the MERLIN® non contact surgical viewing system.
The classic ROLS is a technically advanced panoramic viewing system to provide reinverted images during vitreoretinal surgery, and delivers high resolution, correctly oriented retinal images.
A ROLS+ reinverter delivers the added benefit of decreased working distance when switching between a plano/ concave lens to a wide field indirect lens, providing a more comfortable working position. Note: when used with an assistant scope, the ROLS+ reinverter may cause the assistant scope to be out of focus on some microscopes.